Visiting or New?
Are you new to the Sawtell-Bonville area, or even the wider Coffs Coast region?
Just visiting, whether the first time or are you a regular to our beautiful and friendly area?
Church
We welcome all to our services or activities. In fact some of us have either moved in to the district in the last few years, and were visitors before that. We may have an insight into how you might find us.
Our Church services resume from 26 July. 2020, after COVID-19 shutdown. They are different for now - shorter, no singing or hugging, lots of measures in place to reduce health risks, like hand sanitiser, taking down your contact details, and distancing - but your welcome will be as warm and the message of God just as strong.
If you come – Our Sunday services are informal, with come as you are dress code and sit anywhere you like in the seats setout.  Make yourself known on arrival, or quietly take your place. Alas though we generally have a goodly number of songs to sing this can't heppoen yet. (sing along under tour breath if you may know them, or hum along let the words flow over you if you don't, stand up briefly if you wish, but please don't forget to distance).  There will be a short message based on the bible and the Uniting Church calendar, the reading of bible verses appropriate for the message, and prayers for people and events. An offering is taken to fund the church's work but do not feel obliged to contribute.
When we have holy communion, or sharing bread and grape juice with each other in remembrance of Christ's sacrifice in dying for us, we do it gathered standing together.  Do not feel you must participate if it doesn't feel right for you.  [Normally a loaf of bread is passed along the row (take a piece and pass it on), then the cup (dunk the bread in the cup, and then pass the cup on. You may then eat the bread), but there will be new arrangements].
---
Hearing aid? If you have a setting for it on your aid, you can use our hearing Loop
Groups
You are most welcome to participate in one of our regular Groups
Are you just checking on what is on this month?    Go to This Month or look for the latest on our notice boards in Elizabeth Street.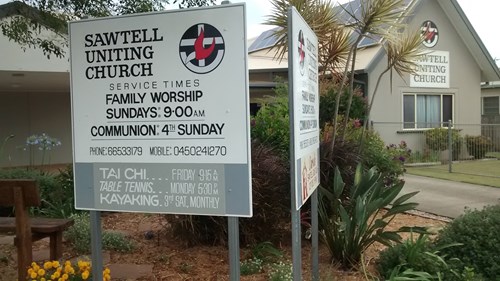 Giinagay! We acknowledge, and pay respect, to the traditional owners and ongoing custodians of the land on which we live, organise and meet – the Gumbaynggir nation!